Clare LeForce

Broker

,

Broker / Owner

in Scottsdale, AZ
Associate Information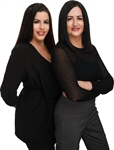 Professional Designations
REALTOR (B)
Expertise Types
Buyer Broker, Co-Op, Commercial, Condominiums, Foreclosure, Land, New Homes, Ranches, Real Estate Auctions, Relocation, REO, Residential, Residential Investment, Rural Land, Short Sale, Single Family Homes, Townhomes
My name is Clare LeForce. I am the Broker Owner of NextHome Modern Market located in Scottdale, Arizona. I am also licensed in California. I have held my real estate licensed since 1989. My areas of expertise are the following counties in California: San Joaquin, Stanislaus, Alameda and Contra Costa. For Arizona my area of expertise is all of Maricopa county. Marketing and design is the core of my business. Real estate is about selling lifestyle, community and memories. I help people transition their lives every day by taking care of their dreams, their needs, their equity and their future. A home is an artistic expression of who we are how we live and the memories we create. To create and execute marketing that conveys passion, vision and quality, you need comprehensive, web and mobile-based products. Your marketing tools need to be expansive, effective and meaningful. At NextHome I provide the systems, products, design and tools my clients need for every part of their marketing both online and offline.
The median age of our clients decreases every year. A generational change requires a shift in how I service them. Today's clients are informed, tech savvy and mobile. While they have high expectations for my knowledge, transaction skills and business processes, there are fundamental characteristics every client looks for in their agent.
Here are my top attributes that I can provide to all my Buyers. Sellers and Servicing Vendors: HONEST AND TRUSTWORTHY,
KNOWLEDGEABLE ABOUT THE PROCESS, RESPONSIVE,
KNOWLEDGEABLE ABOUT THE MARKET AND LOCAL AREAS, A GOOD
NEGOTIATOR AND A GOOD COMMUNICATOR
IN CLOSING I AM PROUD TO ADD THAT MY OFFICE/TEAM HAS BEEN A
5 PLUS YR HALL OF FAME AWARD WINNER
I HAVE ALSO BEEN ON THE BOARD OF DIRECTORS FOR NAHREP BAY AREA, A BRIAN BUFFINI PEAK PERFORMER AND A CERTIFIED MENTOR.
I LOOK FORWARD IN SERVING YOU IN THE NEAR FUTURE.